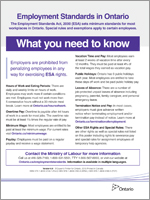 New Employment Standards Poster
A new version (6.0) of the mandatory poster is now available.
If the majority language in the workplace is something other than English and the ministry has published a version in that language, the employer must post a translated version next to the English version.
The poster is available in: Arabic | Chinese (Simplified) | Chinese (Traditional) English | French | Hindi | Portuguese | Punjabi | Spanish | Tagalog | Thai | Urdu
The Employment Standards Information Centre (1-800-531-5551) and the Health & Safety Contact Centre (1-877-202-0008) provide services in many languages, including:
اللغة العربية

বাংলা

粤语

دری

English

فارسی

Français

Ελληνικά
ડાબે – જમણે

हिन्दी भाषा

Italiano

한국어

普通话

Polski

Português
ਪੰਜਾਬੀ

Русский

Español

Tagalog

தமிழ்

اردو

Tiếng Việt
These documents have been provided as PDFs. To view and print PDF files, you need to have Adobe Acrobat® Reader installed on your computer. Download Adobe Reader.