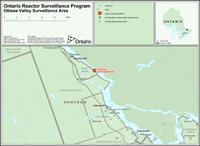 Click on the thumbnail image above to view a larger version of the map.
Summary
This map shows the surveillance area for Chalk River Nuclear Laboratories. The monitoring sites include: air particulate and drinking water.
Map Area
The Ottawa River is shown in the central portion of the map and extends from Point Alexander/Deep River in the north to Pembroke in the south. Westmeath is the only marked point in the southeastern part of the map (the northeastern part of the map is in Quebec). The western boundary extends into Nipissing County.
Map Detail
The chart below indicates the distances of the monitoring sites and other key marked points from the Chalk River Nuclear Laboratories
Map Detail : Monitoring Stations and Key Marked Points and Distance from the Chalk River Nuclear Laboratories
Name/Location
Air
Particulate
Drinking Water
Distance from
Chalk River
Nuclear Laboratories
(km)
Chalk River Nuclear Laboratories
0
Deep River WTP
Yes
Yes
11
Pembroke WTP
Yes
31
Petawawa WTP
Yes
Yes
15
Contact
If you require assistance interpreting the map please contact:
Phil Panter
Tel: 416-235-6045
E-mail: philip.panter@ontario.ca