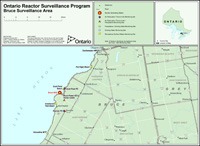 Click on the thumbnail image above to view a larger version of the map.
Summary
This map shows the location of the Bruce Nuclear Generating Station. The monitoring sites include: air particulate, tritium-in-air, drinking water monitoring, recreational surface water, and precipitation.
Map Area
The shore of Lake Huron forms the western boundary extending from Chippawa Hill to Kincardine (north to south). The northern boundary stretches from Chippawa Hill east to Rockford. Highway 6 forms the eastern boundary. The southern boundary is formed by Hanover and Kincardine.
Map Detail
The chart below indicates the distances of the monitoring sites and other key marked points from the Bruce Nuclear Generating Station.
Map Detail : Monitoring Stations and Key Marked Points and Distance from Bruce Nuclear Generating Station
Name/Location
Air
Particulate
Tritium-in-Air
Drinking Water
Precipitation
Recreational Surface Water

Distance from
Bruce NGS
(km)

Bruce Nuclear Generating Station
0
Kincardine WTP
Yes
Yes
18
Southampton
Yes
24
Bruce Power GS Visitor's Centre
Yes
Yes
4
Tiverton PS
Yes
Yes
8
Scott Point PS
Yes
Yes
Yes
3
Port Elgin Beach
Yes
17
Inverhuron Beach
Yes
5
Note: 6 farms in the Bruce Surveillance Area are Food - Milk Monitoring Sites
Contact
If you require assistance interpreting the map please contact:
Phil Panter
Tel: 416-235-6045
E-mail: philip.panter@ontario.ca