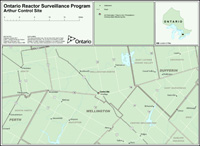 Click on the thumbnail image above to view a larger version of the map.
Summary
This map shows the location of the Arthur Control Site:  The town of Arthur was selected as a control site as it is equi-distance between the Bruce and Pickering/Darlington Surveillance areas.
Map Area
The map includes parts of Perth, Wellington and Dufferin counties.
Map Detail
The chart below indicates the distances of the monitoring sites and other key marked points from the Arthur Control Site.
Map Detail : Monitoring Stations and Key Marked Points and Distance from the Arthur Control Site
Name/Location
Air
Particulate
Tritium-in-Air
Drinking Water
Precipitation
Distance from
Arthur Control Site (km)
Arthur Control Site
Yes
Yes
yes
Yes
equal
Contact
If you require assistance interpreting the map please contact:
Phil Panter
Tel: 416-235-6045
E-mail: philip.panter@ontario.ca