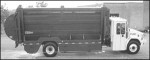 A worker shall be protected from any pinch point at the point-of-operation of the container lifting-dumping-return cycle by the following safety features:
Actuation of the control for the container lifting-dumping-return cycle shall be by sustained manual pressure. The controls shall be located so that the worker actuating the control:

cannot reach any pinch point at the point-of-operation; and
has a clear view of the point-of-operation.

In addition to the above, the following general safety features (procedures) shall be included:

Written procedures shall be established, maintained and enforced so that at no time a worker(s) without adequate protection be permitted access to upper truck sections to check or correct operational problems. This will include lockout provisions and procedures as per section 76 of Regulation 851 and blocking of elevated components as per section 75 of Regulation 851. When working on the elevated container lifting-dumping-return mechanism or associated devices it is necessary to provide appropriate fall protection, a precaution reasonable in the circumstances for the protection of the worker. At or above heights of three meters, the fall arrest system shall be in compliance with section 85 of Regulation 851.

(When using a travel restraint system, a fall restricting system, a horizontal life line or a guardrail system as fall protection methods, see requirements outlined in section 26 of the "Construction Projects" Regulation 213/91.)

Access onto equipment en route should only be permitted for emergency, maintenance, service and repair work (not for operational purposes) with appropriate safety measures in place to protect the worker(s).
Figure 9 - Multi-compartment recycling vehicle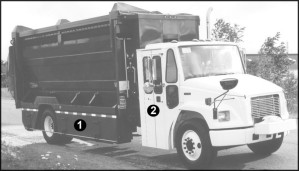 Loading bins
Controls for "lifting-dumping-return" cycle of located in vehicle cab (operated from outside the cab)