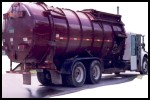 The worker shall be protected from any pinch point at the point-of-operation of the compacting panel by the following safety features:
A moveable guard(s) that is interlocked so that the guard is in place before the compacting cycle is started. The moveable guard shall be designed so that it shall not be hazardous in itself and so that the hazard from projectiles during the compacting cycle is eliminated. For guard interlocking requirements see Appendix "A".

Or by all of the following safety features:

Actuation of the control for the compacting panel shall be by sustained manual pressure. The control shall be located so that the worker actuating the control:

cannot reach any pinch point at the point-of-operation; and
has a clear view of the point-of-operation

An additional set of sustained manual pressure control for each additional worker shall be provided. The actuation of the controls shall take place concurrently for the full compacting cycle (movement across the full hopper opening). The controls shall be located so that the worker cannot reach any pinch point and that the worker cannot operate more than one set of controls.
In addition to the above requirements for point-of-operation guarding the following general safety features/procedures are required which shall be reflected in written company safety policies and procedures.
Loading platforms shall be removed unless equipped with a pressure sensitive protective device, or equivalent, giving due consideration to the environmental requirements under which such device/system has to reliably function, including requirements for a self-cleaning, slip-resistant, loading step surface as outlined in 7.2.10(a) of ANSI Z245-1. The pressure-sensitive protective device/system shall stop the compacting ram movement when a worker steps onto the loading platform. The compacting ram interrupt cycle shall be subject to a manual reset function.
The vehicle or loading platform shall not to be equipped with a grab handle to ensure that the loading platform is not used as a riding step.
Any worker access to compacting spaces within the vehicle shall be subject to full 'lock-out' and 'lock-out' procedures.
Emergency stop bars shall be in easy reach of the point-of-operation and must extend across the width of the bottom part of the hopper opening.
Figure 7 - Side-loading compacting equipment: Type II (Torpedo Design)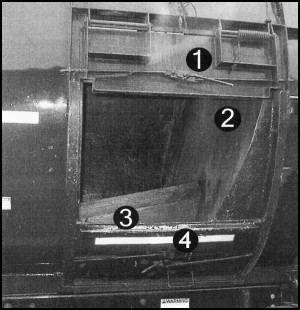 Movable interlocked guard
Compacting panel
Loading sill
Emergency stop bar
NOTE: Controls for compacting panel not shown (at cab door post inside cab, operated from outside of cab for full view of compacting operation)