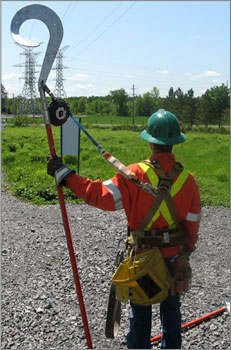 Background
A worker was fatally injured after falling from a power line tower that was being constructed. The worker was wearing a fall protection system that included a retractable life line and safety belt that were attached to a shepherd's hook. (See photograph)
The shepherd's hook fall protection system was intended for use as fall protection while the worker ascended and descended the tower under construction.
It has been determined that the pole's bottom end can catch in objects, such as tool pouches, bolt bags or safety belts, and disengage from where it is anchored. The ability to inadvertently disengage presents a hazard.
The shepherd's hook, involved in the accident, as well as the one depicted in the above photograph, were not equipped with a positive means to ensure that it will not become accidentally or inadvertently disengaged.
Requirements of the Occupational Health and Safety Act on Projects
The Occupational Health and Safety Act requires that an employer ensure the safety of its workers. Section 26 of Ontario Regulation 213/91, The Regulation for Construction Projects, provides that where a worker is exposed to falling more than three metres or is subject to other hazards set out in the regulation, and it is not reasonably possible to install a guardrail system, a worker shall be adequately protected by a method of fall protection set out in the regulation. The regulation also sets out specific requirements for fall protection systems and for the training of the user of the fall protection system.
Stop Use
All workplaces must cease using any type of shepherd's hook that does not have an adequate secondary means of maintaining positive engagement as part of a fall protection system. Shepherd's hooks that may become disengaged from their attachment point without workers intentional actions are unsafe for use in fall protection systems.
Fall protection system components used at a workplace shall be adequate and in compliance with the requirements outlined in the regulation.
An employer shall ensure that a worker who may use a fall protection system is adequately trained in its use, and that the person who provides the training shall prepare a written training and instruction record for each worker and shall sign the record pursuant to Ontario Regulation 213/91.
For further information, contact the Occupational Health and Safety Branch of the Ontario Ministry of Labour at (416) 326-3835; 1-800-268-8013.