The Ontario government has a long-standing tradition of protecting worker health and safety. The Ministry of Labour's mandate, together with the system partners, is to serve all workers and employers under provincial jurisdiction across Ontario.
Each system partner has specific roles and responsibilities:
Ministry of Labour: legislation, enforcement and prevention
Workplace Safety and Insurance Board (WSIB): workers' compensation and return to work supports (funding of the system through a portion of employer premiums)
six Health and Safety Associations (HSAs): training, consulting and clinical services for workers and employers.
The province's six health and safety associations include:
Four sector-focused safe workplace associations:
A medical clinic:
A training centre:
In addition, many other groups and organizations contribute to, or increase, our capacity to deliver prevention services such as:
workers
employers
labour organizations, unions and training centres
business and industry associations
research organizations
non-governmental organizations
other ministries and levels of government
private occupational health and safety service providers
community colleges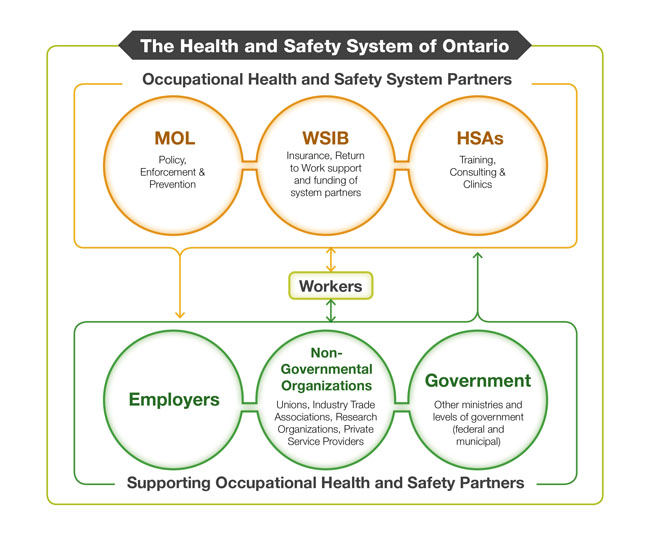 Text description of the diagram
These groups all play an important role in supporting the system by sharing information and best practices, and by providing programs and services to workers and workplaces.