This strategy is designed to help achieve the vision of healthy and safe Ontario workplaces. It is a catalyst to transform the way the system works.
Over the next five years, all organizations will need to align their efforts – to focus on the six strategic priorities and to achieve the two strategic goals: target the areas of greatest need and enhance service delivery.
The Ministry of Labour is calling on all workplaces to recognize the importance of occupational health and safety, and to act through their own programs, policies and initiatives to support the goals and six priorities.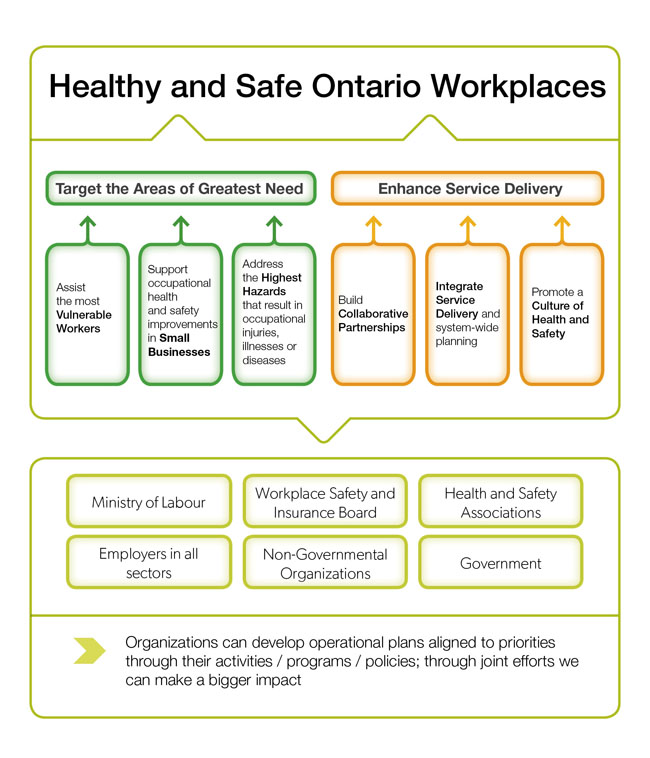 Text description of the diagram
Going forward, the Chief Prevention Officer, with the advice of the Prevention Council, will contribute to achieving these strategic priorities by:
working with the ministry to align its operational plans, programs and policies with the strategy
working with the Health and Safety Associations and the WSIB to align their operational plans with the strategy
motivating workplace parties and the private training community to participate in the strategy
collaborating with all levels of government, other ministries and non-governmental organizations to achieve common goals
The Chief Prevention Officer will also issue annual reports that will describe progress in implementing the strategy and its impact, and hold all system partners accountable.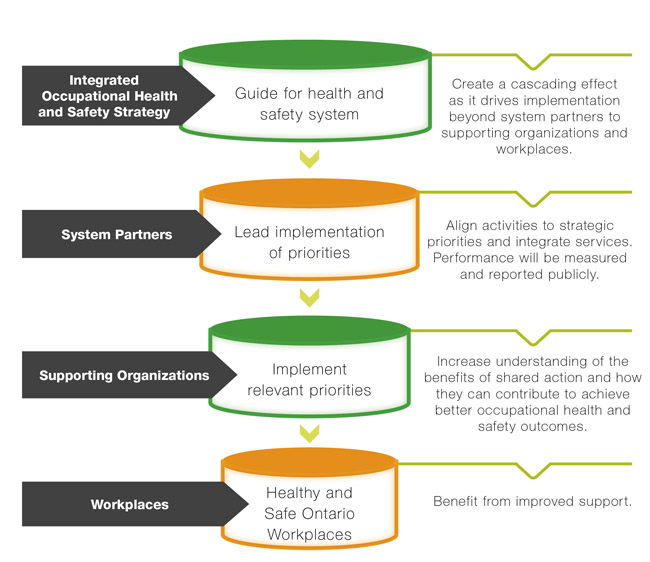 Text description of the diagram
The Ministry of Labour will play a strong leadership role in the strategy. All organizations and individuals in Ontario are encouraged to be part of the success that is possible through our combined efforts. While the ministry can use its enforcement and prevention tools to have considerable influence over occupational health and safety, much broader support and action are needed to fully achieve the vision. To have the desired impacts – to reduce occupational illnesses and injuries, and save lives - the support of the entire occupational health and safety community is needed. Only by working together can every workplace in the province be healthy and safe.
Please contact the Ministry of Labour for questions related to the strategy:
By mail:
400 University Avenue, 14th Floor
Toronto ON M7A 1T7
OR
Contact the system partners with questions related to compensation, health and safety training / advisory services or workplace clinical services through the contact information available on our website.