You will receive a "Proof of Completion" certificate once you complete the training. You must save and/or print the certificate before exiting the module. The Ministry of Labour, Training and Skills Development will not store your certificate, or keep a record of training. Please keep a copy for your records.
This resource requires Microsoft Edge (version 95 or higher), Google Chrome (version 66 or higher) or Safari (version 11 or higher). We do not recommend using any version of Internet Explorer, as it is no longer supported. If using Windows 7 as the operating system, we recommend using Google Chrome 66 or higher.
You will need to deactivate pop-up blockers before completing the module. We also recommend clearing your internet browser's cache before beginning the module. If your internet connection is lost while you are completing the program, you may need to redo the module to receive your certificate. We don't recommend using a mobile device.
You can have the module read aloud to you by clicking on the
"Play Audio"

button.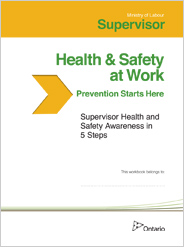 You can also complete your training using our free workbook "Supervisor Health and Safety Awareness in 5 Steps". This workbook must be printed, completed and signed to serve as a record of training.