Ontario has launched public consultations on the changing nature of the modern workplace.
The consultation will consider how the Labour Relations Act, 1995 and Employment Standards Act, 2000 could be amended to best protect workers while supporting businesses in our changing economy.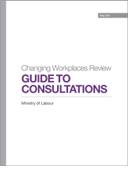 The Changing Workplaces Review Guide to Consultations provides information on the consultation, including the context and the questions the consultation will address.
Read the Guide to Consultations [PDF / 513 Kb]
Learn more about the Changing Workplaces Review
See a list of organizations and organization members who presented during public consultations, and/or provided a written submission.