The Changing Workplaces Review

Content last reviewed: January 2018
The Special Advisors to the Changing Workplaces Review have released a 419-page Final Report. A Summary Report has also been issued.
The Report, which proposes amendments to Ontario's Employment Standards Act, 2000 and Labour Relations Act, 1995, contains 173 recommendations.
In 2015 Minister of Labour Kevin Flynn initiated the Changing Workplaces Review by appointing C. Michael Mitchell and John C. Murray as Special Advisors to lead the largest review of Ontario's labour laws conducted within decades and report back to the Minister. The review was to consider issues brought about in part by the growth of precarious employment.
The Review's first phase of public consultation involved 12 sessions held across Ontario that heard over 200 presentations and received over 300 written submissions.
An Interim Report was issued in July 2016 containing approximately 50 issues and over 225 options for further consultation.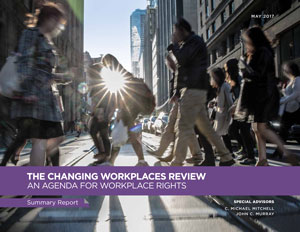 The Final Report and Summary concludes the Advisors review.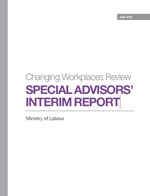 The Interim Report and Guide follow public consultations held in 12 cities across Ontario in 2015.
The Interim Report identifies approximately 50 issues and over 225 options of varying size and scope.
Reviewing the changing nature of the workplace is part of the government's economic plan for Ontario. The four-part plan is building Ontario up by investing in people's talents and skills, building new public infrastructure like roads and transit, creating a dynamic, supportive environment where business thrives and building a secure savings plan so everyone can afford to retire.
Non-standard employment (which includes involuntary part-time, temporary, self-employment without help and multiple job holders) has grown almost twice as fast as standard employment since 1997. Private sector services account for more than half of employment in Ontario.
The consultation on the changing workplace fulfills a commitment made in the 2014 Throne Speech and direction in the Minister of Labour's mandate letter.