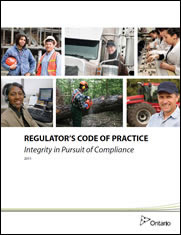 In 2011, Ontario released the Regulator's Code of Practice to help guide the activities of Ontario's regulatory ministries and organizations that are involved in regulatory compliance, including legislative development, policy, compliance promotion/communication, licensing, audit, inspection, investigation, and enforcement activities.
The Code aims to create a more collaborative partnership between regulators and their regulated community to make compliance as easy and straightforward as possible. The Code provides a set of Organizational Values, Elements of Professionalism, Service Principles and Best Practices to support compliance activities and to promote a consistent level of service excellence for the citizens of Ontario.
The new Code promotes a compliance-focused approach that is risk-based and focuses on the desired outcome - a safe, healthy and fair Ontario.
A compliance-focused approach asks regulators to focus on the objectives of regulatory law and policy and then consider the most innovative, efficient and effective method of achieving compliance.
The combination of a compliance-focused approach with risk based targeting can help achieve maximum compliance while supporting and creating fewer burdens for businesses who want to follow the law.