Print This Page
Safe At Work Ontario TODAY
Issue #7 | June 2011

Issued: June 2011
Content last reviewed: July 2011
PDF Version [492 Kb / 8 pages | Download Adobe Reader ]
New and young workers: safety at work is everyone's job
As summer gears up, new and young workers across Ontario are starting jobs while many employers are filling seasonal positions. We all must remain vigilant about workplace safety. New workers are four times more likely to be injured during their first month of employment than at any other time, according to the Institute for Work and Health.
From May to August 2011, our ministry is conducting a blitz to help protect new and young workers. Health and safety inspectors are ensuring that employers are complying with the Occupational Health and Safety Act and its regulations. They are checking if young workers are instructed, trained and supervised on jobs, using proper safety measures and equipment, and following proper procedures and meeting minimum age requirements.
Our inspectors will focus on workplaces where new and young workers are more likely to be employed, including the low-rise residential (homebuilding) construction industry, restaurants, amusement parks, health care establishments, arenas and farming operations.
To help workplaces protect these workers, our ministry has created a new online portal for young worker safety – www.ontario.ca/YoungWorkers – which includes links to resources, tools, calculators, videos and contact information. We've also created new tip sheets, individually tailored for young workers, parents, supervisors, employers and the general public. We've also designed a new colourful poster for you to post in the workplace. I encourage you to share these resources with your clients or others in the workplace.
To reach young workers, our ministry understands that we must embrace and adopt new technologies. We've already launched Facebook, Twitter and YouTube pages, which are now reaching thousands of users, including young workers and employees. We have just begun using QR codes – a type of bar code – on the young worker tip sheets and poster to allow Ontarians to access the information at the click of a camera phone.
It's just another way we are reaching workers with a life-saving message: Safety at work is everyone's job. It's the law!
Sector Plans: blueprints for safer workplaces
Every year, our ministry outlines its strategy to protect workers in Ontario from workplace injury and illness. Our commitment to providing timely, relevant information continues this year, as we release the 2011-2012 plans for various workplace sectors.
These plans describe what inspectors look for during a workplace inspection. We understand that every workplace is unique. Each sector represents different challenges and opportunities for our ministry and its health and safety partners in the ongoing effort to keep workers safe. With that in mind, a separate plan has been developed for each of the workplace sectors, whether it's Construction, Industrial, Mining, Health Care, or Specialized Professional Services.
These plans provide a comprehensive overview of sector-specific hazards, compliance issues and planned blitzes. They outline the ministry's enforcement focus for this year, including any new important legislation or program changes. You can also view the sector plans for past three fiscal years on our website. I encourage you to share copies of the relevant plans with others in your workplace, including the joint health and safety committee, or your health and safety representatives.
This is one of the ways we reach out to business to help them operate in a healthy and safe environment. These plans continue our ministry's commitment to innovation, transparency and partnership, while protecting the public interest.
View CSA Standards cited in OHSA Regulations
Thanks to a pilot project funded in part by the Ontario government, you can now read the relevant Canadian Standards Association (CSA) standards before you buy.
Many regulations made under Ontario's Occupational Health and Safety Act require compliance with standards published by CSA, a not-for-profit, membership-based association serving business, industry, government and consumers in Canada and the global marketplace.
Registration to view the standards is required; however, you are under no obligation to purchase anything. CSA standards cited in Ontario's occupational health and safety regulations are available online for many sectors, including industry, health care, mining, manufacturing, agriculture and construction.
Ontario implementing recommendations of Expert Safety Panel
Ontario is transforming the province's health and safety system and increasing protection for workers.
In the largest revamp of Ontario's worker safety system in 30 years, a series of new amendments to the Occupational Health and Safety Act and Workplace Safety and Insurance Act have passed. These amendments are in response to the recommendations provided by the Expert Panel on Occupational Health and Safety and will:
Establish the Ministry of Labour as the lead for accident prevention, transferring it from the WSIB.
Appoint a new Chief Prevention Officer to coordinate and align the prevention system.
Create a new prevention council, with representatives from labour, employers, and safety experts, to advise the Chief Prevention Officer and the Minister.
The changes also give the Minister of Labour oversight of the province's Health and Safety Associations as well as the education, training and promotion of workplace health and safety.
"We all have the same goal — to make sure all workers go home safe and healthy at the end of the day," said Minister of Labour Charles Sousa. "These amendments will help prevent injuries and create productive workplaces — and that's good news for all Ontarians."
Staying cool when the heat is on
As the summer heats up, the ministry is encouraging workplaces to make every effort to prevent heat stress, which can lead to worker illness disability – or even death.
David Phillips, Environment Canada's senior climatologist, told Safe At Work Ontario TODAY that early forecasts show it will be warmer than normal in some parts of Ontario.
"My sense is there will be moments this summer when we will be complaining about the heat, haze and humidity. I think everybody should be on guard for the summer weather, no matter what the forecast is," Phillips said.
When heat is combined with other stresses, such as hard physical work, fluid loss, fatigue or some medical conditions, it could lead to serious consequences for the worker. Employers must take steps to protect themselves and their employees from the effects of this hazard. When there is a potential exposure to heat stress, control measures must be taken to prevent heat exposure in the workplace.
Heat stress can affect anyone, including the young and fit. Workers most at risk for heat stress include those in hot environments – such as smelters, furnaces, bakeries – and those who work outside in the summer. Symptoms of heat stress can include excessive sweating, headache, rashes, cramping, dizziness and fainting.
"With the warmer weather now upon us, workplaces must do all they can to protect their workers from heat stress," said Ontario Minister of Labour Charles Sousa. "By actively controlling heat stress through engineering methods, protective clothing, acclimatization and other controls, we can prevent workplace injury, illness and even deaths."
Resources
For more detailed information on heat stress, consult the ministry's heat stress webpage, www.ontario.ca/HeatStress.
A wealth of resources and links is also available from Ontario's health and safety system partners, including a guidebook, poster and a tool to determine humidex guidelines.
Inspection Blitzes
Since 2008, the ministry has conducted 27 inspection blitzes, focusing on specific hazards across numerous industries. These proactive blitzes are designed to increase compliance and raise awareness of workplace health and safety law.
The blitzes are announced in advance and results are publicly available soon after. The ministry tracks each sector to determine if the blitzes result in a long-lasting increase in compliance and decrease in injuries.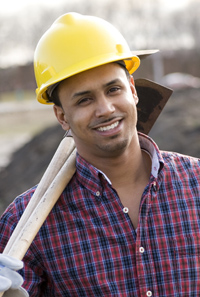 Last fiscal year, our inspectors visited more than 14,000 workplaces. They issued nearly 33,000 orders and more than 2,600 stop-work orders during the blitzes.
Thirteen blitzes are scheduled for the 2011-12 fiscal year – targeting workplace health and safety hazards:
New and Young Workers
(Industrial and Health Care sectors) – May to August 2011
Homebuilders/Low-rise Construction
(Construction Sector) – May 2011
Tower Crane Suppliers
(Industrial/Specialized Professional Services) – May 2011
Diamond Drilling (Mining Sector) – June 2011
Tower Cranes GTA/Mississauga/Niagara
(Construction Sector) – June 6-30, 2011
Pits and Quarries, Sand and Gravel Pits (hazards associated with crushing,
screening and conveying processes) (Mining Sector) – July 2011
Access Equipment: Ladders, Suspended Stages, Elevated Work
(Construction Sector) – August 2011
Personal Protective Equipment
(Industrial and Health Care sectors) – October 2011
Racking and Storage (Industrial Sector) – October 2011
Underground Mining (ventilation hazards) (Mining Sector) – October 2011
Infection Control (Health Care Sector) – November 2011
Musculoskeletal Disorders
(Construction, Industrial, Mining and Health Care sectors) – February 2012
Construction Trade Specific
(Construction Sector) – February 2012
The blitz results for personal protective equipment in the mining sector and the conveyor guarding blitz are now available on the ministry website. www.ontario.ca/SafeAtWorkOntario
The results outline the blitz's focus, the inspection activity, an analysis of the orders given and further steps. The ministry develops and posts blitz reports on its website soon after the blitz's completion.
Tower cranes
The construction sector has recently experienced a number of incidents involving tower cranes. Many tower cranes are more than 20 years old. They are exposed to the elements and weather extremes, and subjected to heavy use for extended periods. They are also prone to stress, fatigue and breakdowns.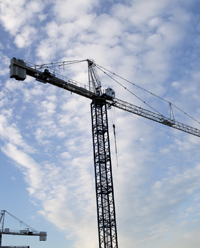 As such, the condition of tower cranes supplied to and used by Ontario workplaces continues to be a concern for the Ministry of Labour.
The ministry is conducting two initiatives in 2011, focussing on tower cranes in Ontario. During the first phase, which starts in May, ministry industrial inspectors and engineers visited offices and storage yards of tower crane owners and suppliers.
While inspecting for compliance with the Occupational Health and Safety Act, and Regulation 213/91 – which regulates construction projects – ministry staff reviewed duties under the act with tower crane owners and suppliers. The goal is to reaffirm with the tower crane suppliers that the tower cranes supplied to workplaces are to be in good condition and comply with the law.
Ministry inspectors followed up with an enforcement blitz in June that audited tower cranes at construction projects in the Greater Toronto and surrounding areas.
Blitz results will be posted on our website soon after the blitz's completion.
For more information about safety on construction sites visit:
www.ontario.ca/ConstructionSafety
http://www.ihsa.ca
NEW on the Ministry of Labour website
Confined Spaces Regulation
As of July 1, 2011, all regulatory requirements for confined spaces will be consolidated into one regulation. As of that date, the confined spaces requirements for industrial establishments, construction projects, health care and residential facilities, and mines and mining plants will come under the Confined Space Regulation (O. Reg. 632/05) instead of sector-specific regulations.
Bill 168, Workplace Violence and Harassment - one year later
A year ago, Ontario passed amendments to the Occupational Health and Safety Act (OHSA) that better protect workers from workplace violence and address workplace harassment.
Violence and harassment have a personal impact on the well-being of workers. And they can have consequences for business: lost time from work, health care expenses and lost productivity.
As a result of the new legislation, employers have to assess workplace violence risks. They also need to develop workplace violence and harassment policies and programs.
From June 15, 2010 to March 31, 2011, ministry inspectors investigated more than 400 complaints involving workplace violence, issuing about 600 orders associated with the new legislation.
During the same period, ministry inspectors investigated more than 1,000 complaints involving workplace harassment. Altogether, they issued about 1,100 orders associated with the new law.
Ministry inspectors will continue to address workplace violence as part of comprehensive workplace investigations, particularly where there is a greater known risk of such violence occurring. Inspectors will also continue to investigate incidents and complaints of workplace violence or harassment, and reinforce the minimum requirements of the OHSA.
Learn more on our website about how workplaces need to address workplace violence and harassment. You will be able to view a brochure, fact sheet, guideline, news release and backgrounder and the legislation itself. The ministry has also created a video on employer responsibilities. You will also be able to use resources – such as a toolbox – that were created with our partners and visit relevant links. www.ontario.ca/WorkplaceViolence
Court Bulletins
Did you know that workplaces and workplace parties that violate Ontario's employment and workplace health and safety laws could face convictions, fines or even jail time? We produce court bulletins on some of these convictions. Fines of more than $100,000 are given a higher profile on our website.
Workplace health and safety events
Health and Safety Ontario, Partners in Prevention Conferences
Sudbury, Oct 4
Ajax, Oct 6
Kitchener, Oct. 18
Rama, Oct. 20
Ottawa, Oct. 27
Thunder Bay, Nov. 1-2
Burlington, Nov. 9
Windsor, Nov. 15
For more information on events, training and services, contact our health and safety system partners:
Workplace Safety & Insurance Board (WSIB)
WSIB provides no-fault workers' compensation and promotes workplace health and safety. For information about prevention, claims forms, health issues, return-to-work programs, and links to other health and safety organizations, visit the WSIB website at http://www.wsib.on.ca.
Call toll-free: 1-800-387-0750.
Health & Safety Ontario
Health & Safety Ontario oversees four health and safety organizations dedicated to providing health and safety training and education to workers and employers.
Occupational Health Clinics for Ontario Workers (OHCOW)
OHCOW provides comprehensive occupational health services and information. Toll-free: 1-877-817-0336 http://www.ohcow.on.ca
Workers Health & Safety Centre (WHSC)
As Ontario's designated health and safety training centre, the WHSC provides training for workers, their representatives and employers from every sector and region of the province. Toll-free: 1-888-869-7950 http://www.whsc.on.ca