Print This Page
Safe At Work Ontario TODAY
Issue #4 | July 2010

Issued: July 2010
Content last reviewed: July 2010
PDF Version [ 319 KB ⁄10 pages | Download Adobe Reader ]
Summer update
As the Ministry of Labour enters its third year of Safe At Work Ontario, our workplace safety compliance strategy, we find ourselves busier than ever. In January, we held our annual stakeholder consultation sessions where we heard from worker, employer and sector representatives. Thank you for your suggestions and comments at the consultations.
Although we will hold them again next January, we are always seeking your comments year-round. We value your feedback, as it informs how we can better work with our stakeholders to ensure that our workers are able to return home safely. We've listened to you and posted information about upcoming blitzes on our website and, as promised, this year's sector plans were posted online by early July.
Aside from this publication, we are also taking further steps to keep you informed. We have just launched a monthly e-mail newsletter sent to subscribers who are interested in learning the latest news from our ministry. These monthly updates – which go directly into your e-mail inbox – will include news about blitzes, results, statistics, and health and safety announcements. I encourage you to sign up for the newsletter on our website. You can also keep up-to-date with our latest initiatives and announcements by following us on Twitter.
As the summer gears up, there will be a lot on our radar. This summer is forecast to be warmer than previous years, raising the risk of heat stress for some workers. We have included information about heat stress in this newsletter. And on June 15, 2010, amendments to the Occupational Health and Safety Act that address workplace violence and harassment came into effect. You will find a feature story on what employers need to do to comply with the amendments, along with resources and an interview with Wayne De L'Orme, one of our health and safety experts.
Also in this edition of Safe At Work Ontario TODAY, you will find information about:
Inspection blitzes
Expert Advisory Panel
Inspection videos
Thank you for continuing to work with us to ensure that Ontario's workplaces are among the healthiest and safest in the world.
Expert Advisory Panel on Occupational Health and Safety
Our occupational health and safety strategy, enforced by a dedicated team of inspectors, has made significant strides. Between 2004 and 2008, there was a 20 per cent drop in the annual lost-time injury rate, resulting in significant cost-savings for workplaces. Safe At Work Ontario is working, partly because we're making better use of our resources. But we always can, and should, do more. We can never be complacent.
Minister of Labour Peter Fonseca has appointed an expert advisory panel to review the province's workplace health and safety system. Led by Tony Dean, the panel will report back in the fall of 2010 to the Minister with recommendations for improving enforcement and prevention activities.
Key issues that will be addressed include:
the roles and responsibilities of the system partners
the impact of the underground economy on workplace health and safety
the protection of vulnerable workers
the use of incentives to motivate superior health and safety performance
linking procurement of goods and services to health and safety performance
the role of joint health and safety committees
the impact of advancements in technology/innovation on health and safety
mandatory entry-level health and safety training.
The panel will rely on advice from a variety of stakeholders, including labour organizations, workers, businesses, health and safety organizations, and professionals who provide services to workplaces and workers. The panel will provide strategic advice on the review through a series of meetings throughout the year.
The recommendations will go a long way in improving the health and safety in our workplaces. Tony, who has been known for his innovation and efficiency, is a former Secretary of the Cabinet and has served as the Deputy Minister of Labour.
We want you to be involved, as we value your comments and suggestions. I encourage you to read the consultation paper on the ministry website. Contact information can be found in the consultation paper.
Preventing workplace violence and workplace harassment
On June 15, 2010, amendments to the Occupational Health and Safety Act (OHSA) came into force that will better protect workers from workplace violence and address harassment. Employers are required to assess workplace violence risks. They also need to develop workplace violence and harassment policies and programs.
Violence and harassment have a personal impact on the well-being of workers. They can also have financial consequences: lost time from work, health care expenses and lost productivity. Everyone should be able to work in an environment free from violence and harassment.
Safe At Work Ontario Today spoke with Wayne De L'Orme, a provincial coordinator in the ministry's Industrial Health and Safety Program, about what employers needed to have in place by June 15 – and asked other questions as well:
Qs & As with Wayne De L'Orme
1) What is workplace violence and harassment?
There are many ways to define workplace violence and harassment. The Ministry of Labour will be using the definitions set out in the Occupational Health and Safety Act. Workplace violence – and I'm paraphrasing the Act – is the exercise, or attempt to exercise or the threat to exercise physical force against a worker in a workplace that could cause physical injury. Harassment is a course of comment or conduct that is, or should be known to be, unwelcome.
2) What are employers required to do to comply with the legislation?
In general terms, employers must assess the risk of violence in their workplace. Based on the results of the assessment, employers must develop a program to mitigate the identified risks. For harassment, employers must develop a program to provide workers with a way of bringing harassment concerns to the employer's attention. In addition, employers must post workplace violence and harassment policies in their workplaces. Workers must be provided instruction on both the policies and programs.
3) What are the elements of an acceptable program?
A workplace violence program must have four elements present. The essential components are: measures to control identified risks, a way in which workers can summon immediate assistance, the way in which workers can report violence issues and the way in which the employer will deal with incidents or complaints of violence. A harassment program needs two parts: a way to report harassment concerns and the method by which the employer will deal with harassment issues.
4) What does this legislation say about domestic violence?
When an employer becomes aware that domestic violence may enter the workplace, the employer must take every reasonable precaution to protect the workers. This may mean, for example, that the employer may need to develop a specific safety plan for the targeted worker.
5) Will workers be allowed to refuse work on the basis of workplace violence?
Yes. The ability of workers to refuse work will now allow workers to protect themselves from a situation in which they believe they are exposed to physical harm due to violence in their workplace.
6) How will the Ministry of Labour enforce the legislation?
As of June 15, 2010, the effective date of the amendments to the OHSA, inspectors will – among other things – be asking to see the posted policies and asking workers about the violence and harassment programs in their workplace. If inspectors discover workplaces are in non-compliance, they will take enforcement action, which may include issuing orders to employers to correct the contravention.
Annual stakeholder engagement
In January 2010, the Ministry of Labour's Occupational Health and Safety Branch hosted its second annual stakeholder consultation sessions as part of its Safe At Work Ontario strategy. Every year, the ministry invites stakeholders to discuss what needs improvement, strategies that are already working well and what new enforcement blitzes would be of value.
Over the five days, 49 representatives from labour and employer groups in various sectors met with the ministry. Participants expressed appreciation for the ministry's efforts through Safe At Work Ontario to address injuries and fatalities in the province's workplaces. They also said they were generally satisfied with the work the ministry had done over the last year to respond to concerns raised at the 2009/2010 consultation sessions.
Participants also noted the ministry's efforts to increase communication with stakeholders. This includes communicating about upcoming enforcement blitzes, sharing the sector plans on the ministry's website and direct communication between ministry staff and stakeholders.
Ongoing stakeholder engagement is integral to a strong understanding of what is occurring in the field, so that the ministry can respond quickly to workplace issues. The ministry uses information from its consultations as part of the annual planning process for Safe At Work Ontario. Feedback is analyzed and prioritized to address what can be delivered over the short- and long-term.
Invitations to the next stakeholder consultation sessions will be sent in November 2010 and the sessions will take place in January 2011. However, comments are welcome at any time throughout the year. For more information on the Safe At Work Ontario sessions, please contact:
Jody Young
Associate Director, Occupational Health and Safety Branch
Jody.Young@Ontario.ca
(416) 326-9615
Beat the heat!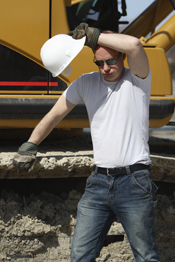 With Ontario forecast to experience its warmest summer in three years, the Ministry of Labour is urging employers and workers to take measures to shield themselves from the risks of heat stress.
Environment Canada forecasts a warmer-than-normal summer, after two relatively cool and wet spells.
"This summer, we think we'll see a kind of good old-fashioned summer," David Phillips, senior climatologist at Environment Canada, told Safe At Work Ontario Today. "This one could be much more uncomfortable and humid for people. There could be more heat advisories. It could be uncomfortable and dangerous for some, while exhilarating for others."
When heat is combined with other factors like hard physical work, fluid loss, fatigue or some medical conditions, it can lead to illness, disability and even death. Heat stress can affect anyone, including the young and fit.
"When you get that kind of extreme day, when the temperature's higher than it should be, one can't function as well. People are going to find conditions that are more difficult in the workplace," Phillips said.
Heat stress occurs when a combination of hot, humid conditions and physical activity strains and overcomes the body's natural cooling system. Symptoms of heat stress can include excessive sweating, headache, rashes, cramping, dizziness and fainting.
Heat stress can happen in many workplaces. Environmental risks include air temperature, humidity, air movement and sources of radiant heat, such as working in the sun, or near large, hot objects.
Employers have a duty under the Occupational Health and Safety Act to take every precaution reasonable in the circumstances to protect workers. This includes developing hot environment policies and procedures to protect workers in hot environments due to hot processes or hot weather. Employers should plan for first-aid or medical evaluation of sick workers.
For more resources on how to beat the heat, please visit:
Inspection blitzes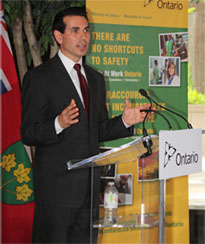 The Ministry of Labour is moving into its third year of enforcement blitzes under the Safe At Work Ontario strategy. The ministry created these enforcement campaigns to increase awareness, promote compliance with health and safety legislation, and expand the reach of inspector visits of hazards in Ontario workplaces.
Blitzes are announced in advance to help employers prepare and ensure compliance with the Occupational Health and Safety Act. They are used to communicate to employers the leading sector-specific workplace hazards that contribute to most of Ontario's workplace injuries and fatalities.
Workplace injuries and fatalities can usually be traced to root causes that may vary by sector. To select workplaces for proactive inspections, the ministry uses indicators such as inherent hazards and poor records of compliance with safety regulations.
In 2009, the ministry carried out 10 blitzes. The blitz results are posted on the ministry's website and reiterate common orders that are issued to help improve overall compliance in these areas.
The ministry tracks each sector to determine if the blitzes result in a lasting increase in compliance and a drop in injuries. They inform the ministry's work by determining the subsequent level of engagement and frequency of inspections of individual workplaces.
The number of orders issued from last year's blitzes show that employers ignore certain hazards. These blitzes continue to focus on those hazards. The ministry performs follow-up blitzes in some of the same areas to determine if they increase compliance.
This year's and upcoming blitzes:
January - April: Fall hazards – Construction Sector
February: Forklift blitz – Industrial Sector
May: Fall-related hazards – Industrial Sector
May - August: Young and New Workers Blitz - Industrial, Construction and Health Care Sectors
June: Mobile equipment for surface and underground mines – Mining Sector
June: Heavy and light equipment – Construction Sector
September - October: Musculoskeletal disorders (MSDs) – All Sectors
November - December: Conveyor guarding – Industrial Sector
February 2011: Loading docks – Industrial and Health Care Sectors
Inspection videos
The Ministry of Labour has produced inspection videos to help businesses understand and comply with the Occupational Health and Safety Act and its regulations. As part of its mandate, the ministry is required to inform employers, employees and the public about their rights and responsibilities. These videos, which are posted on the ministry's website, educate employers and workers about best workplace safety practices.
The series of videos is another way we are helping employers understand and comply with health and safety legislation. By working with businesses to improve workplace health and safety, we can reduce the number of workplace injuries and fatalities, and curb the frequency of required inspections.
Each video depicts an inspector on location, showing what he or she looks for in a focused, proactive inspection. French transcripts are available for each video. An embedded link under each video also allows occupational health and safety partners to publish them on their website.
The posting of the videos are often timed with Safe At Work Ontario blitzes. Current videos posted online include:
Auto Body Repair Shops: A health and safety inspector visits an auto body shop and explains how workers can be safe.
Forklift Safety: A health and safety inspector talks about what she looks for during a forklift inspection.
Workplace Violence: A health and safety inspector talks about workplace violence and harassment.
Ontario's realigned partners in prevention
Last year, the Workplace Safety & Insurance Board (WSIB) announced a plan to realign Ontario's Health and Safety Associations (HSAs) in a bid to streamline the organizations and better serve its members. Twelve organizations were amalgamated into four new associations. The amalgamations came into effect on Jan. 1, 2010.
These WSIB-funded associations provide products, training programs and services to Ontario employers and workers. The amalgamations were aimed at improving efficiency and service delivery. The Ministry of Labour often identifies firms with poor safety records for inspection. These firms are also often engaged by an HSA for health and safety education and training.
The new HSAs are:
To learn more about the HSAs, please visit www.healthandsafetyontario.ca/
Fall hazards blitz in the construction sector
In mid–January, the Ministry of Labour launched a 90-day blitz focusing on fall hazards at construction projects, diving operations and window cleaning of buildings where a worker is exposed to a fall hazard.
The preliminary report for the campaign can be found on the ministry website. The report provides an overview of compliance trends discovered during the campaign. It also sets out practical immediate and long-term options for consideration by the ministry, the Expert Advisory Panel and the Section 21 Committee, as appropriate.
The aim is to help Ontario's industry achieve regulatory compliance.
The Ministry of Labour will continue with its heightened enforcement to ensure that employers are maintaining adequate site supervision. The ministry will take the following steps:
Ministry of Labour inspectors will work with our partners to provide workers, supervisors and employers with additional guidance on the essential elements of fall protection, including clarification of the hierarchy of measures for dealing with fall hazards.
Employers who repeatedly contravene the law will be subject to heightened enforcement by ministry inspectors.
Minister of Labour Peter Fonseca is seeking the Panel's recommendations for expanding the use of penalties such as ticketing, increasing fines and, more generally, mandatory training for workers and supervisors.
To continue conveying the message that everyone has a role to play in ensuring that workers are following safety procedures, the ministry is taking the following steps, among others:
developing a strong communications campaign to create broader public awareness of high risk hazards and provide community members with tools to identify potential workplace health and safety issues.
working with the Workplace Safety and Insurance Board and the Health and Safety Associations to increase communication in the primary languages of the construction sector to reach workers in their own languages.
introducing a toll-free telephone number to assist members of the public (as well as workplace parties) in contacting the Ministry of Labour concerning construction-site work practices that they believe may be unsafe.
The ministry looks forward to continuing dialogue on these issues over the coming months with our health and safety partners and stakeholders. www.labour.gov.on.ca/english/hs/sawo/blitzes/preliminary_report.php
Updated hazard alert: new best practices for suspended platforms
In January, the Ministry of Labour issued a hazard alert on the fundamental procedures for suspended platforms. This alert focused on the safe use, maintenance and inspection of suspended work platforms. It also focused on control measures to stem the risks associated with using such equipment.
The Ministry has updated the alert to include a section on best practices for the design, maintenance, inspection and testing of suspended platforms. This newly added section cites Canadian Standards Association (CSA) standards that address suspended platforms.
Ministry of Labour veteran takes over as acting associate director

Jody Young has taken over as acting associate director at the ministry's Occupational Health and Safety Branch. She temporarily replaces Carol Sackville-Duyvelshoff, who has held the position since 2000.
Jody is also the head of a multi-ministry project that examined the underground economy within the construction sector. She brings with her a wealth of work experience at the operational and field levels.
She was a research and development assistant for the United Nations and an environment health and safety manager at a company in Niagara Falls. She also worked as a health and safety co-ordinator at a Thorold-based business, where she oversaw health and safety at the company's industrial, mining and construction facilities across southern Ontario.
"I'm excited about my new role," Jody says. "I'm looking forward to working closely with our system partners at the corporate level to ensure that our workers are able to return home safely."
Jody has held a host of positions in the Ministry of Labour since joining in 1999. She began as an industrial inspector, moving up to regional program co-ordinator and as industrial program manager in Hamilton-Halton.
In February 2010, Jody took the lead on a multi–ministry initiative addressing the underground economy and modernization of compliance services in the construction sector.
Jody can be found on the forefront of issues and trends within the ministry, her colleagues said.
"I can say that Jody constantly strives for a higher quality product and a higher service standard for the stakeholders," said Brian Barron, one of her colleagues. "Jody has a passion for the job that is truly second-to-none."
Carol has moved to a temporary field management role as acting manager of the Industrial Health and Safety Program in St. Catharines after spending nearly four years as OHSB's associate director. She will be returning to OHSB after her stint. As associate director, she led the completion of the High Risk Program, helped drive Safe At Work Ontario and was the lead of the first integrated service delivery strategy with health and safety partners.
View CSA standards cited in OHSA Regualations
Thanks to a pilot project funded in part by the Ontario government, you can now read the relevant Canadian Standards Association (CSA) standards before you buy.
Many regulations made under Ontario's Occupational Health and Safety Act require compliance with standards published by CSA, a not–for–profit membership-based association serving business, industry, government and consumers in Canada and the global marketplace.
Registration to view the standards is required; however, you are under no obligation to purchase anything. CSA standards cited in Ontario's occupational health and safety regulations are available online for many sectors, including industry, health care, mining, manufacturing, agriculture and construction. www.labour.gov.on.ca/english/hs/pubs/csa/index.php
Safety-engineered needles
Workers who provide health-related services are at risk of injury from contaminated needles, which can transmit serious infectious diseases such as Hepatitis B, Hepatitis C and HIVAIDS. On July 1, 2010, the use of safety-engineered needles becomes mandatory in additional workplaces where workers use hollow-bore needles on persons for a therapeutic, preventative, palliative, diagnostic or cosmetic purpose, such as:
doctors' and dentists' offices, community health centres, family health teams and independent health facilities; and,
other workplaces where health-related services are provided, such as home care services, ambulance services, public health programs, health support services to students in schools, and health care/first aid services to workers or individuals in industrial and other workplaces.
The Ontario government introduced the Needle Safety Regulation under the Occupational Health and Safety Act in three phases. The regulation aims to protect workers from injuries involving hollow–bore needles (the type of needle involved in giving injections or drawing blood, for example). Safety–engineered needles have built-in features that minimize or eliminate the risk of skin injuries to workers. The ministry initially mandated the use of safety-engineered needles in all Ontario hospitals in September 2008, and then in long-term care homes, designated psychiatric facilities, laboratories and specimen collection centres in April 2009.This followed a joint public consultation by the Ministry of Labour and the Ministry of Health and Long–Term Care in the summer of 2008.
The most recent amendments to the regulation were developed after another joint public consultation in the summer of 2009. This is the final phase of the Ontario government's initiative to better protect workers from needlestick injuries.
A copy of the regulation can be found at www.e-laws.gov.on.ca/html/regs/english/elaws_regs_070474_e.htm