Print This Page
Safe At Work Ontario TODAY
Issue #3 | January 2010

Issued: January 2010
Content last reviewed: January 2010
PDF Version [ 1.21 MB | Download Adobe Reader ]
Ontario protects workers from violence and harassment
In December, the Ontario legislature passed landmark legislation to protect workers from workplace violence and harassment. The amendments to the Occupational Health and Safety Act which go into effect in June 2010 are important, as safe workplaces mean productive workplaces.
These amendments will strengthen protections for workers by requiring employers to:
Develop workplace violence and harassment policies and programs, and provide information and instruction to workers on their contents,
Assess the risks of workplace violence, and
Take reasonable precautions to protect workers from possible domestic violence in the workplace.
In addition, workers will be allowed to refuse work if they think they are at risk of physical injury due to workplace violence, similar to a worker's right to refuse work as a result of physical hazards. It also adds the definitions "workplace violence" and "workplace harassment" to the Act.
By preventing injuries and creating healthier workplaces, businesses save money and create a more prosperous Ontario. The amendments provide specific legislative requirements to address workplace violence. And it would bring Ontario in line with other Canadian jurisdictions that have specific legislative or regulatory requirements regarding workplace violence.
The Ministry of Labour and its health and safety partners will provide employer groups and workplaces with the necessary tools to help them comply with the legislation. There will be easy-to-use guides, resources and tools to assist employers in implementing the policies and programs.
The ministry will be releasing a Guide to Violence and Harassment in the Workplace, which will help employers answer important questions about the amendments to the OHSA. It will be available on the ministry's website.
The ministry will also post a revised Guide to the Occupational Health and Safety Act.
The Occupational Health and Safety Council of Ontario (OHSCO) will provide documents that will help employers develop workplace violence and harassment programs and policies, and help them assess risks of workplace violence. These guides and other helpful information will also be available on the ministry's website. The ministry and its partners are committed to helping employers prepare for the new legislation in the upcoming months. Everyone should be able to work without fear or violence. After all, workers have a right to come home each day to their families, safe and sound. Read the full text of the recently passed Bill 168.
Safe At Work Ontario: A commitment to partnership
As we near the end of our second year of Safe At Work Ontario, I am proud to look back on our success in making our workplaces safer and healthier. The lost-time injury rate has dropped from 1.8 in 2007 to 1.7 in 2008. I am confident that we will see further reductions in 2009 as we begin feeling the impact of focusing on workplaces with specific workplace hazards, and poor health and safety records.
We're committed to improvement and cooperation
With Safe At Work Ontario, we are taking a broader approach to occupational health and safety than in the past. It is a risk-based, sector-focused approach based on three pillars: Enforcement, Compliance and Partnership. Safe At Work Ontario focuses on workplaces with higher-than-average, lost-time injury rates and Workplace Safety and Insurance Board (WSIB) claims costs. But, other factors are considered as well, including compliance history and workplace hazards.
We have also given ministry inspectors more flexibility in how they choose to work with employers. The level of inspector engagement with the workplace will depend on factors such as employers' commitment to a strong health and safety culture, and the presence of a well-defined, suitable and sustainable Internal Responsibility System (IRS).
We've listened
In building Safe At Work Ontario, the ministry sought input from more than 40 labour, employer and other groups with an interest in workplace safety. This stakeholder input, along with lessons learned from the ministry's high-risk strategy (2004-2008) was invaluable in developing the program. We were gratified to receive broad support for the approach proposed in Safe At Work Ontario, particularly for the increased flexibility and the development of sector-specific strategies focused on specific hazards.
We know that you wanted improved communications to stakeholders, the development of a strategy for addressing musculoskeletal disorders, and reduced duplication of roles among the health and safety partners. You wanted better planning for us to recognize high-performing workplaces and not just go after firms that were non-compliant or had a poor record. You also wanted increased flexibility to address sector-specific issues.
We've taken action
The ministry has taken a number of steps as a direct result of your suggestions. The ministry's website has been redesigned and made more user-friendly. We have increased the posting of information on the ministry's website, including the sector plans and blitz announcements and results. For the first time, we have implemented a cross-program strategy for assessing hazards contributing to musculoskeletal disorders (MSDs) in all workplaces and have posted the results on our website.
We have also developed an interactive web-based tool to help you identify MSD hazards and how to avoid them. We have implemented a process of integrated planning among Ontario's health and safety partners which now takes into account the strengths and roles of each of the partners, increases transparency about how workplaces are identified for proactive engagement identification and reduces duplication.
We are working on ways to ensure consistent IRS enforcement and expect to consult our stakeholders on these ideas in the near future. We have also improved our approach to addressing sector-specific issues thorough annual blitz planning and the development of sector plans, as well as posting the results on our website.
I assure you that we do not intend to stand idle. The ministry is committed to continuous improvement. If we want to continue to develop and improve Safe At Work Ontario, we need periodic and meaningful stakeholder input. A commitment was made to hold stakeholder consultations each year. These meetings provide an ongoing opportunity for the ministry to communicate information to stakeholders, as well as to receive feedback on how the program is working, areas for possible change and support for new directions.
I am pleased to announce that the ministry will be holding several meetings with stakeholders in January 2010. For more information, please contact Carol Sackville-Duyvelshoff, Associate Director at 416-326-9615.
Focus on fall hazards at construction sites
MOL inspectors are checking for hazards involving suspended platforms at construction sites during an enforcement blitz which started in mid-January. Minister Fonseca has asked for a report back in 90 days.
The ministry issued a hazard alert on the fundamental safety procedures for suspended platforms, describing the safe use, maintenance and inspection of these platforms and control measures to minimize the risks associated with using this equipment.
Inspectors also started a heightened enforcement campaign targeting fall hazards in the construction sector. As part of regular inspections, they will look for compliance with fall protection requirements, including appropriate fall-related equipment and adequate worker training. Ministry inspectors will have zero tolerance for non-compliance.
Read the Alert: Suspended Work Platform Safe Use, Maintenance & Inspection
2009-2010 Sector Plans
As part of Safe At Work Ontario, we develop sector-specific enforcement plans each year that focus on hazards specific to workplaces in different economic sectors. The plans describe the industrial, health care, construction and mining sectors and outlines what inspectors will be looking for in each sector during an inspection. They are developed on an annual basis for each program area.
This is one way we reach out to all types of businesses to help them operate in a safe and healthy way.
The plan features each sector's key hazards and health and safety issues, outlines the enforcement focus for each year and identifies planned blitzes.
Please check back for 2010-2011 plans on the ministry's website in June.
Ministry to launch forklifts and lifting devices safety blitz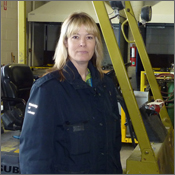 Forklifts and lifting devices continue to cause serious – sometimes fatal – injuries to workers in Ontario's industrial sector workplaces. In February, the Ministry of Labour will carry out a repeat of last year's successful Forklift and Lifting Devices blitz in the industrial sector. In the 2009 blitz, Ministry of Labour inspectors issued a high number of orders, at 3,155, and 182 stop-work orders.
Workplace injuries and fatalities can usually be traced to a few root causes. The ministry's proactive inspection blitzes on sector-specific hazards are designed to raise awareness and increase compliance with health and safety legislation.
The Forklifts and Lifting Devices blitz will generally focus on three priorities: lifting device inspection and maintenance, operation of the lifting device by a competent person and a safe work environment.
This year, there will be an enhanced focus on supervisor and operator training. Inspectors will be talking with operators and their supervisors to determine their level of understanding of the hazards involved with the work, and their level of competence to perform and supervise work in a manner that does not endanger any worker.
It may be tempting to see lifting device operators as responsible for accidents and, thus, better training as the means to safer operations. But, it is important to recognize that training, although essential, will not be enough to eliminate accidents. To be most effective, operator training should be part of a larger comprehensive safety program that includes:
hazard identification
training (of supervisors, lifting device operators and those working near lift trucks, cranes, etc.)
supervision
operating procedures
maintenance and repair procedures
facility design, and
lift truck/lifting device selection criteria
Although the employer is responsible for implementation of the program, all the workplace parties should be involved in its development. The joint health and safety committee or health and safety representative – where there is one – along with supervisors and workers, should all be involved not only in the development of rules and procedures to prevent injuries, but in identifying the causes of accidents and "near misses." They should also all be involved in monitoring lifting devices safety improvements.
February 2009 Forklift Blitz Results: Lifting Devices And Forklifts At Industrial Sector Workplaces
Focusing on hazards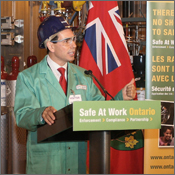 We conducted 11 blitzes in 2009 – twice as many as in 2008. These blitzes are announced in advance and the results are reported after they are completed. The ministry tracks each sector to determine if the blitzes result in a long-lasting increase in compliance and a decrease in injuries.
The ministry website now features a video of the ongoing Vehicle Body Repair Blitz that shows what inspectors look for in its focused, proactive inspections. More ministry-related videos are planned for the future. Workplace inspections are announced in advance, and results are posted on the ministry's website.
Blitz announcements and reports
View CSA standards cited in OHSA Regulations
Thanks to a pilot project funded in part by the Ontario government, you can now read the relevant Canadian Standards Association (CSA) standards before you buy.
Many regulations made under Ontario's Occupational Health and Safety Act require compliance with standards published by CSA, a not-for-profit membership-based association serving business, industry, government and consumers in Canada and the global marketplace.
Registration to view the standards is required; however, you are under no obligation to purchase anything. CSA standards cited in Ontario's occupational health and safety regulations are available online for many sectors, including industry, health care, mining, manufacturing, agriculture and construction.
View the CSA Standards.
Integrated planning ensures efficient H&S prevention system
The Ontario Occupational Health and Safety system consists of the Ministry of Labour, the Health and Safety Associations (HSAs), and the Workplace Safety and Insurance Board (WSIB).
In August 2008, the Occupational Health and Safety Council of Ontario (OHSCO) implemented a new planning strategy that integrates service delivery among health and safety partners. The partners work together to determine who is most appropriate to engage a workplace.
The goal is to ensure that we have the most efficient health and safety prevention system possible in Ontario; taking into account the varying roles and responsibilities of each of the partners (e.g., enforcement and compliance, information, education, prevention) and the workplace's occupational health and safety needs.
The new strategy was implemented in 2009-10. Firms for engagement by each system partner were identified and are being visited. Some 38,000 workplaces will be engaged by at least one system partner in 2009-10. A risk-based model for firm engagement has been developed that ranks firms according to their injury history and hazards.
Initial planning has begun for 2010-2011.
Construction Project Notification: we've made it easier
Hundreds of people in construction are finding it easier to comply with the law that requires them to notify the Ministry of Labour (MOL) before construction begins on any project meeting any of the requirements of Sub-Section 6 (1) of the Regulation for Construction Projects.
A new, free electronic Notification of Project (e-NOP) application form is now available online, and more than half of project notifications are coming to the ministry electronically.
Constructors, employers and individuals engaged in construction projects in Ontario have an efficient, easy-to-use access through the ministry website to register construction projects.
This project is part of the Ontario government's Open For Business initiative. Through this, the government is creating faster, smarter and more streamlined government services to business – while protecting public safety and ensuring that the best interests of Ontarians are a priority at every step.
Ministry launches redesigned website
The Ministry of Labour launched its redesigned website in the fall with a new look and feel that makes it easier for visitors to search and navigate.
On Oct. 29, 2009, the redesigned site went live, providing increased multimedia content, such as video and interactive Flash banners. It also takes into the account the use of handheld devices and the popularity of social networking.
It meets our ongoing requirements for barrier-free, accessible websites, as required by the Ontarians with Disabilities Act, and should make pages easier to search and navigate. The health and safety section is one of the largest on the website, providing links to legislation and regulations, and other useful information such as guides on how to report an incident.
It also features a new resource, Topics and Publications, a comprehensive alphabetical listing of key information – from chemical hazards and dangerous substances to farming operations. A raft of tools is available on the new website to help you become compliant and help workers understand their rights and obligations, including a new, interactive tool to create awareness of musculoskeletal disorder issues.
The ministry has also begun posting videos, including one of the ongoing Vehicle Body Repair Blitz that shows what inspectors look for in its focused, proactive inspections. In the video, a ministry health and safety inspector visits an auto body shop and explains how workers can stay safe. More ministry-related videos are planned for the future.
We underwent the redesign to ensure that our content remains current and relevant to our users. The aim was to make it as user-friendly as possible, so that Ontario's employers and workers can get the information they need to work safely.
H1N1 Flu Virus information
The Ministry is working closely with the Ministry of Health and Long-Term Care and the Ontario Agency for Health Protection and Promotion to monitor the outbreak of the H1N1 influenza virus. We have developed tools and guidelines to help employers and workers prevent and manage the spread of the virus.
Here are links to tools from the ministry and other safety and health partners that you can use:
MOL Information
Employers and Workers SafeCanada.ca
Public Health Agency of Canada
Health Care Providers:
Ministry of Health and Long–Term Care
Ontario Safety Association for Community and Healthcare