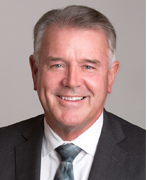 Kevin Flynn
Minister of Labour
Kevin Flynn is the Minister of Labour. He was first elected to represent the riding of Oakville in the Ontario legislature in 2003.
He has served as Parliamentary Assistant to the Minister of Transportation, the Minister of Infrastructure, the Minister of Training, Colleges and Universities, the Minister of Education, the Minister of Energy, the Minister Responsible for Democratic Renewal and the Minister of Labour, where he helped lead the provincial consultation process for Bill 211, which ended mandatory retirement in Ontario.
Prior to his election, Flynn owned a successful Oakville-based business, while serving as an Oakville town and Halton Regional councillor for more than 18 years and winning six consecutive elections. He has always been active in the community, as president of the Halton Children's Aid Society, a mentor in the Big Brothers program and a coach of minor sports.
Flynn is steadfast in his determination to see Oakville preserve as much as possible of its remaining, precious green space. But he also understands bottom lines, the impact of high taxes on small business and the difficulties of operating a business in a changing economic climate. As a result of his environmental work, Flynn was awarded the 2007 Halton Conservation Award of Excellence.
Flynn and his wife Janice have lived in Oakville for more than 30 years and have one son, Nigel.